Thanks to one of our readers, they sent us a link for a construction update on the 2016 Olympic Games in Rio as of June 15, 2015. The Daily Mail, granted, while not the most popular piece of journalism out there, did take quite a few photos and videos.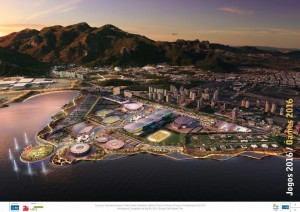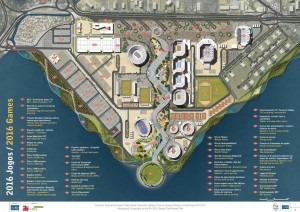 Ideally the Olympic Village should start resembling as proposed above, however, the reality is that after looking at several of the photos and aerial footage taken by the Daily Mail, I'm astounded at how far behind they are.
There are additional photos, videos and details available at The Daily Mail. Construction is in complete disarray. Several buildings are really just concrete foundation. There is a complete lack of urgency that the games are 400 days away, and nothing is completed. This is clearly becoming classic case of "over-promising and under-delivering". It appears only three of the venues on the map are remotely complete, and that's just externally.
Even though they have the exteriors of a few facilities complete, they still have to build out each of the stadiums internally. That means plumbing, electrical, heating, ventilation, air and cooling! We are not even factoring in other things such as seating, signage, concessions, and other arena amenities.
According to Wikipedia, there are 34 proposed sporting venues. Of which, 10 of them do not require any permanent work. 8 requires some permanent work. 9 more venues require brand new construction and there are still 7 temporary venues that need to be worked on.
The writing is on the wall, and it is clear as day that Rio is completely far behind. The situation is grave, and the 2016 Olympic Games are at risk. The budget risks are swelling to astronomical proportions, and no doubt the International Olympic Committee is wearing Rose Colored Glasses thinking and believing everything will still be delivered on time. Construction, project, and budget risks are not being managed.
If what the Daily Mail witnessed is true, the Brazilian Government is in complete disarray and disharmony, not able to work together to bring the 2016 Olympic Games to fruition in Rio.
Rio is so far behind it makes the Athens Games look competent. Can they pull off a Hail Mary like Athens? Doubtful in my opinion as Greece has full access to existing infrastructure and technical resources in the European Union that enables them to recover. Remember they barely delivered all venues on time in the July/August 2004 time frame! Literally down to a few days before the Olympic Games. The situation is completely different in Rio and they may not have the resources or existing infrastructure to accomplish what Greece did.
It is time to select and enact Plan B, International Olympic Committee. It is time to rescind the games from Rio and award it to another city.